--Dear Beloved Divinity and Light Intensive Graduates--

Let us create magnificence together!
Quan Yin requests the honor of your presence and power in these enlightened experiences of transformation.

I am so excited to be sharing this powerful Graduate event with all of you magnificent beings!
I can hardy wait to hear all of your voices, and feel our power together!
I sure hope you are able to join us!

Your magic is needed right now!
The next few weeks are a very powerful and important time in our global experience.
Our energies together can truly effect the outcomes in this time in our history.

Divinity Graduates Acceleration & Celebration
Enlightening this Earth Continuously in Connection with Each Other
Tuesday January 10, 2017

Then, You are welcome to stay on with us every Tuesday, indefinitely:
Invitation to Join the Graduates Enlightened Circle of Creation
On Ongoing Enlightened Support System to Transform your World
Beginning Tuesday January 10, 2017
See more info below.
---
Divinity Graduates Reunion & Celebration
with Quan Yin
Enlightening this Earth Continuously in Connection with Each Other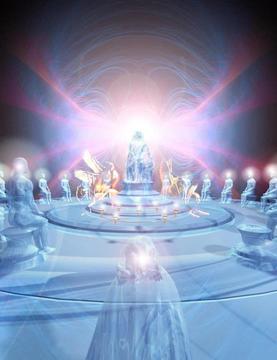 Tuesday January 10, 2017
Quan Yin Channeled Live, in Full Embodiment by Laura Lee Lizak
Attend by Teleconference Or Listen to Recording Online

5:30 to 7:30 pm Pacific 6:30 to 8:30 pm Mountain and Arizona 7:30 to 9:30 pm Central
8:30 to 10:30 pm Eastern 3:30 to 5:30 Hawaii
To find your time zone: http://www.worldtimebuddy.com/

Quan Yin's Message to You, Divine Enlightened One:
"Anything is possible these days. No one is outside of this of this. You are channeling your powers in every experience. You are changing the Earth in this power. You are channeling everyone's powers. There is no pushing in this experience. You are the change in this reality. That is important to recognize. You are giving help to a lot of people in your body. Your channeling of power is accelerating this Earth. Notice the shift in your heart in this reality. It is getting stronger and stronger. You are transforming the world.

There are noticeable shifts in everyone's bodies. We are all transforming together in every part of our experience. Notice the changes in your body, and say yes to the power that is available. It is going to mean that you transform this Earth in experiences of enlightened support.

Notice the shift you are creating here, and let it accelerate. Notice your trauma is releasing, and everyone around you is shifting. Notice how different you are already here, and everyone is transforming in connection with each other. Notice that shift is accelerating here. Now, let this occur in your endeavors. Let it change the Earth in connection with others. Let it move mountains in your experience. Let the world see that your body is changing everything. Amma.
It is good to remember your power."
In this Support System of Enlighteners
we will experience Transformation Together:

Magnificent Support Occurring
Everyone Transforming Each Other
Lifting in Consciousness in Connection with Each Other
Everyone Transforming Each Others Bodies
Everyone Giving Help to Each Other
Everyone Moving Forward in Their Powers
Everyone Transforming the Earth
Everyone Feeling the Magnificence that is Possible
Everyone Giving Help to Everyone on the Planet
Everyone Choosing to be Magnificent Together
Everyone Experiencing Magnificent Support in Connection with Each Other
Enlightenment Occurring En-mass

And we will have a lot of fun together.

$35 per person
The conference codes for the event are 712 432-3100 pin 537534
---
Dear Magnificent Divinity or Light Intensive Graduate,

You are especially chosen and lovingly invited by Quan Yin to join to her Inner Circle:
The Enlightened Circle of Creation
We are opening the Circle to select Divinity Graduates beginning
January 10, 2017.

Meeting every Tuesday by teleconference, live with Quan Yin
5:30 to 7:30 pm Pacific 6:30 to 8:30 pm Mountain and Arizona 7:30 to 9:30 pm Central
8:30 to 10:30 pm Eastern 3:30 to 5:30 Hawaii
To find your time zone: http://www.worldtimebuddy.com/

Quan Yin's Circle has been ongoing for 12 years now!

Every Tuesday evening, we are grounding the newest energies of enlightened support for each other and for the Earth.
We are healing, transforming and enlightening our bodies,
our energy structures,
our enlightened support systems,
the way we share our powers,
the way we give help to each other,
the way we give energies to the planet;
all in connection with each other.
These are powerful and magnificent experiences.
Sharing this enlightened support system is so creational and helpful, for ourselves and for the Earth!
We would be honored to share this Enlightened Support System with you at this time.
May we share our powers in a manor that allows all magnificence to occur.

Quan Yin's Message to You:

"Your magic is needed at this time. You have all been working at many things these days to offer transformation to this Earth. Every person on this planet is shifting right now. No one is outside of this. Everyone is changing the body of creation that they are experiencing. You are transforming this Earth. Each person is connecting into that. You are creating more power than ever, and transforming experiences in your life.

We make certain that we are transforming each other in this connection, in this circle. We are making plans for our powers, and our experiences to enlighten this Earth. Your body is transformational, in all experiences. We do this together, and enlightened support occurs in this Earth Connection. We are magnificent together, and more powerful than ever in our bodies.

Allow this enlightened support to accelerate your magnificence. Say yes to this enlightened experience of helping each other to transform this world. We are new to these powers. And there are so many who want to give them out to each other. Amma.

What is your excitement? What is your transformational experience to offer to this Earth? We are transforming each other here. Are you enlightening in this power? Give it to each other here, and know the magnificent support that is available to your body at this time. Amma. Say yes to this and let your self be enlightening in every experience in this world. Amma. Thank you. You are wonderful, and supporting the world. Amma. Thank you."

Testimonial from a current Circle Member--

"My experience with Quan Yin is both majestic and humble. I am drawn now more than ever to this most powerful connection as humanity moves into the collective, or unity consciousness. What an unprecedented blessing it is for the circle to send enlightened support continuously, and create a grid for the planet. I am assisted in my process to step up onto my soul evolution, intrinsically connected with the Divine I AM where wholeness abounds."

January's classes will be focused on accelerating your body
to experience magnificence in continuous acceleration.

January 10: Transforming Your Body into Enlightened Support
January 17: Giving Help to Each Other Continuously
January 24: Helping Everyone to Magnify Their Powers
January 31: Magnifying Everyone's Support Systems

The monthly dues have been the same for 12 years!

$125 per month (4-Tuesday month)
Dues are due prior to the first day of the month.
Though we hope you can join us every week,
we ask for you to attend at least 3 classes per month
to remain current with the energies of the circle. (Exceptions for travel.)
Membership is monthly and continuous, and classes are continuously accelerating.

Payment Option: By Paypal

Please go to paypal.com and pay to creation@quanyincenter.org. Please check "Friends and Family"
Payment Option: By Check
To pay by check, please click here to send an email telling us you are doing so: creation@quanyincenter.org
Please send check made out to: Laura Lizak 49 Redstone Drive Sedona AZ 86336

If registering on the day of the class, call us directly at (505) 670-0714 to receive registration info and confirmation.
---